Benefits from the presentation of a firm on the portal:
   strengthening of the firm's image and brand and its positioning on the Internet

   an opportunity to establish trade contacts with high quality firms

   access to thousands of prospective customers with the offer of products and services

   promotion among high quality firms in Poland and abroad

   an opportunity to place free offers (e.g. sale, purchase, promotional offers, notices of sales, information about different events, etc.)
in the catalogue and on the portal's main page

   prestigious certificate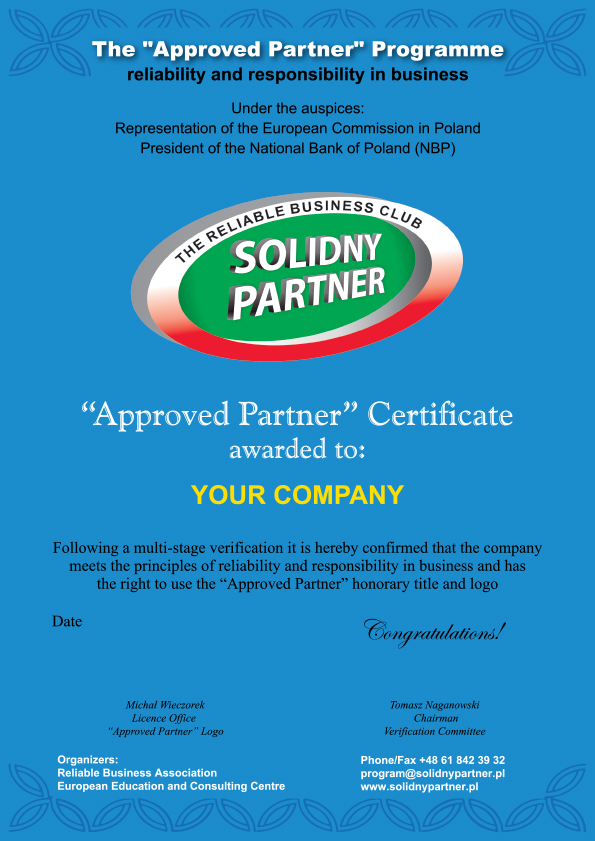 One of the main pluses that distinguishes the Approved Partner Programme from other types of similar enterprise is the multi-stage system of company verification that involves a continuous monitoring of their reliability, which is the first stage of the Programme.
The awarded companies receive the right to use the honorary title and the logo of the Approved Partner in their marketing activities. This is valid conditional on the fulfillment of good practice criteria described in Programme regulations.
A decision to award a company the right to use the honorary title and the logo of the Approved Partner in its marketing activities is made jointly by the Licence Bureau (run by the European Education and Consulting Centre, the Programme initiator), the Verification Committee and the Management Board of the Reliable Business Association. The Approved Partner Business Club, functioning within the Programme, is an informal forum that facilitates contacts and co-operation between companies of proven reliability and responsibility, which, however, are monitored and verified regularly.
The European Education and Consulting Centre also established solidnypartner.eu portal which aim is to present high quality companies and encourage others to cooperate with them, promote high quality products and services as well as create "a zone of increased safety in business", which is of particular value to prospective customers during the present "confidence crisis".
The aim of the solidnypartner.eu portal is also to facilitate trade contacts and convince its users (prospective customers and contracting parties) that only beneficial transactions can be concluded among companies which are guided by the principles of reliability and responsibility in business.
The solidnypartner.eu portal also offers an extensive preference programme for its winners in order to encourage other companies to engage in initiatives for the benefit of the social and natural environments and to participate in the programme.
Your cooperation is welcome!